The Dallas Blaze Track Club was formed in 2002 to provide positive and structured guidance in the development of inner-city youth ages 7 to 14. Our main objectives are:
To challenge our youth by teaching Track & Field principles and developing necessary skills to compete on a National level.

To develop the minds and bodies of our youth for future leadership through the discipline of athletic training.

To develop a spirit of competitiveness that will foster an unswerving desire to always strive for excellence.
The goal of Dallas Blaze is to have fun, work athletes to the best of their abilities, and support each other as team members.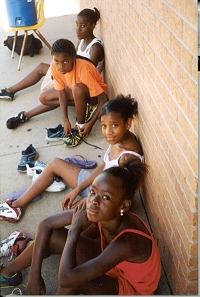 2002 Bantam Girl: Kevisha Clark, Raven Beasley, Daisha Hurst and Retta Hackworth rest after a work-out.